Welcome Message from the President of the Flemington Jewish Community Center
Welcome to the Flemington Jewish Community Center (FJCC)!
Nearing its 100-year anniversary, the FJCC was founded by some of the earliest Jewish farmers who settled in Hunterdon County NJ. Today, the FJCC is a welcoming and dynamic synagogue with a host of programs that truly speak to its position as a "community center" in addition to its traditional role as a center of Conservative Judaism that engages the Jewish community as far as Trenton, Annandale, and Princeton, New Jersey and Bucks County, Pennsylvania. A member of the United Synagogue of Conservative Judaism, the FJCC is a fully egalitarian congregation, welcoming all who are interested to join us for our services and abundant activities.
Friday evening services appeal particularly to families with young children who, by virtue of their preparation, often lead our Kabbalat Shabbat services; our Saturday services are opportunities for thoughtful discussion of the weekly Torah reading and related current issues. Services are followed by Oneg on Friday night and Kiddush on Shabbat where the community can eat and relax together, catch up with friends and make new connections. Minyan on Sunday morning offers a chance for further spiritual engagement followed by a good cup of coffee and breakfast. At times of mourning, we can arrange a shiva or yahrzeit minyan.
The FJCC boasts marvelous Jewish education opportunities, including a Nursery School, pre-Hebrew School, Hebrew School, Bar/Bat Mitzvah training, Hebrew High School and Adult Education. Our students are members of the United Synagogue Youth and Young Judaea youth groups.
Our CENTER SERIES programming enriches the lives of our community members through its cultural, art, musical offerings, as well as the film and speaker series. The weekly Rabbi's class and youth group activities, the interfaith conversations and regular family programming keep our synagogue humming throughout the week.
As an ambassador of Jewish values, the FJCC regularly participates in community-based activities such as the annual Thanksgiving interfaith service, visiting the sick in our local hospital, and periodically hosting Family Promise to provide food and shelter for Hunterdon County's homeless families.
The FJCC is very proud of its connection both with the ancient Land of Israel and the modern State of Israel.  It is a significant part of our Jewish identity, our study of Torah, our education, and our services. We encourage our member, and especially our high school and college students, to visit Israel with family and/or with programs for young people.  We also celebrate our connection with Israel by arranging for congregational trips to Israel.
Please reach out to Deborah in our FJCC office who can answer your questions, give you a tour of our facilities, and introduce you to our capable staff.
FJCC President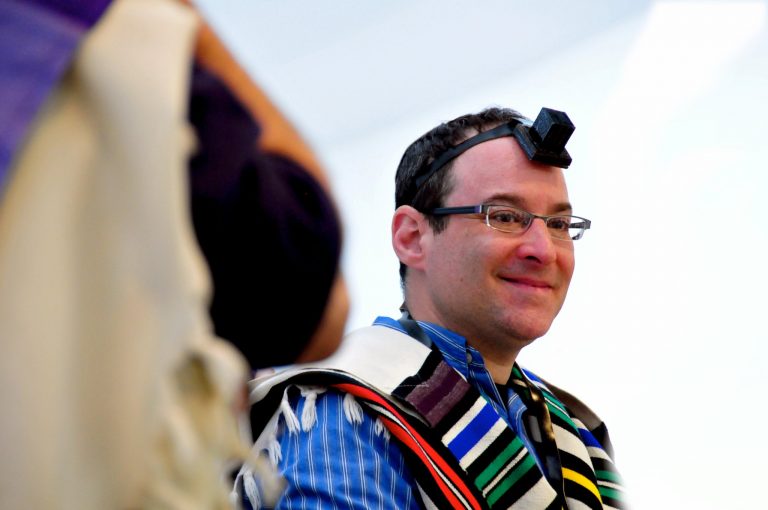 Our Rabbi
Click here to learn more about our Rabbi.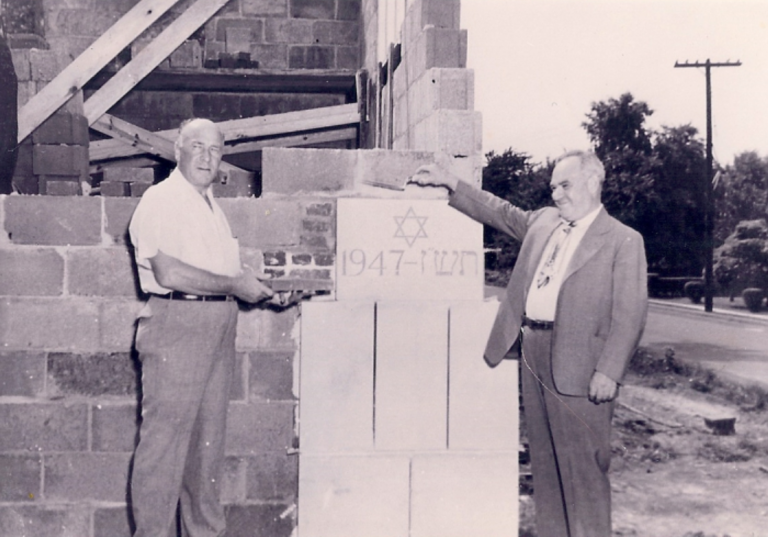 The History of the FJCC
Learn more about our rich and extensive history at the Flemington Jewish Community Center!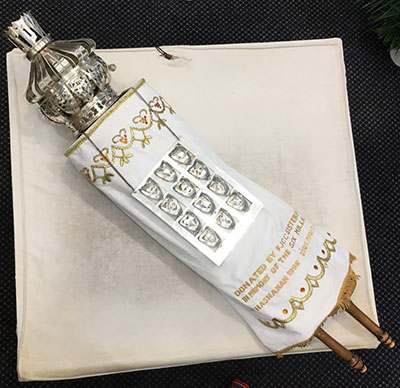 Czech Holocaust Memorial Torah
The congregation of the Flemington Jewish Community Center is honored to have one of the 1564 Czech Torah scrolls rescued from a mass of deteriorating items found in a storage area of the Michle Synagogue in Prague.
Upon discovery of the cache, the Torahs were cataloged and brought to the Westminster Synagogue in 1964.  Under the direction of the Memorial Scrolls Trust, many of the sacred items were repaired and distributed to congregations throughout the world.  Part of the collection remains in a museum at the Synagogue as a remembrance of the Jewish communities from which they came.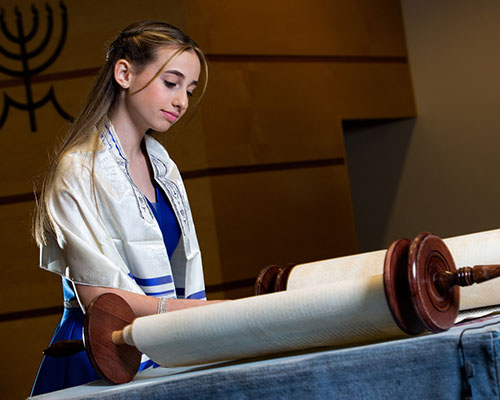 Life Cycle Events
As a community, we jubilantly gather to celebrate happy occasions, including: naming or brit milah for babies, bar/bat mitzvah of our children, conversion, and marriage ceremonies. Our members compassionately provide assistance to those who are ill or experiencing hardship. Our rabbi and the congregants are exceptional at providing support, meals, counseling and minyanim during the difficult time surrounding the passing of a loved one. If ever you are in need, day or night, call the Rabbi at 908-782-6410.
Welcome Interfaith Families
We are so excited and proud to announce the formation of an Interfaith Families Working Group!
The Flemington Jewish Community Center welcomes interfaith families without distinction and with our full support.
Interfaith families wonder how they can integrate religion into their lives when family members practice different religions. We asked new members and potential members how we could help. They indicated a desire for multifaith support, and we listened. Thus, the Interfaith Families Working Group was conceived. Some of the issues that have surfaced include: the needs of interfaith couples and families within the FJCC, how we can support the needs that they identify and how we can reach out to blended families in the community beyond the FJCC.
FJCC Board
Sharon Pavelich Rednor, President
Trustees:
Jeff Doshna*
Jack Forman*
Jim Fox
Zel Gerstein*
Marsha Goldstein
Alan Hylton*
Marvin Jacobson
Nathan Lefkow
Cara London
Ed Mehrlust*
Nadine Milecofsky
Bruce Moskovitz
Kim Muller
Jonathan Nemeth
Howard Nifoussi*
Alan Radzin
Sharon Rednor
Rachel Rodriguez
Dale Sperling
Phil Stern*
Jonathan Weitz
Adam Wolf
Michael Wolf*

*Lifetime Member