Download this month's FJCC Newsletter!
Your source for monthly announcements and what's happening in the community.
Sukkot II occurs on Havdalah: Sukkot III (CH"M) occurs on Sukkot IV (CH"M) occurs on Candle lighting: Sukkot V (CH"M) occurs on Havdalah: Sukkot VI (CH"M) occurs on Sukkot VII (Hoshana Raba) occurs on Candle lighting:
Service Times
7:30 pm Friday evening Kabbalat Shabbat 
9:15 am Saturday Shabbat morning
7:30 pm Havdalah Saturday evening (varies with sunset)
9:00 am Sunday Minyan
The Rabbi's Adult Ed Class has a new link. https://us02web.zoom.us/j/87814118387
SIGN UP FOR SERVICES IN THE SANCTUARY
To attend Shabbat services in person, in the sanctuary, you must pre-register if you will be joining this week for Friday night or Saturday morning services.  
Please download and complete forms for in-person services, which must be emailed back to the office no later than Thursday at 5:00 pm. 
Please email if you have any questions: office@flemingtonjcc.org
A note from the office:
The best way to reach the office is via email. 
While the synagogue building remains closed, there will be office hours on Tuesday, Thursday and Friday 9-4, by appointment only.  
A mask must be worn and social distance respected at all times.   Please, do not randomly go to the synagogue!  
We can do everything we need to do over email, the phone or Internet.
Everyone – stay safe and stay healthy.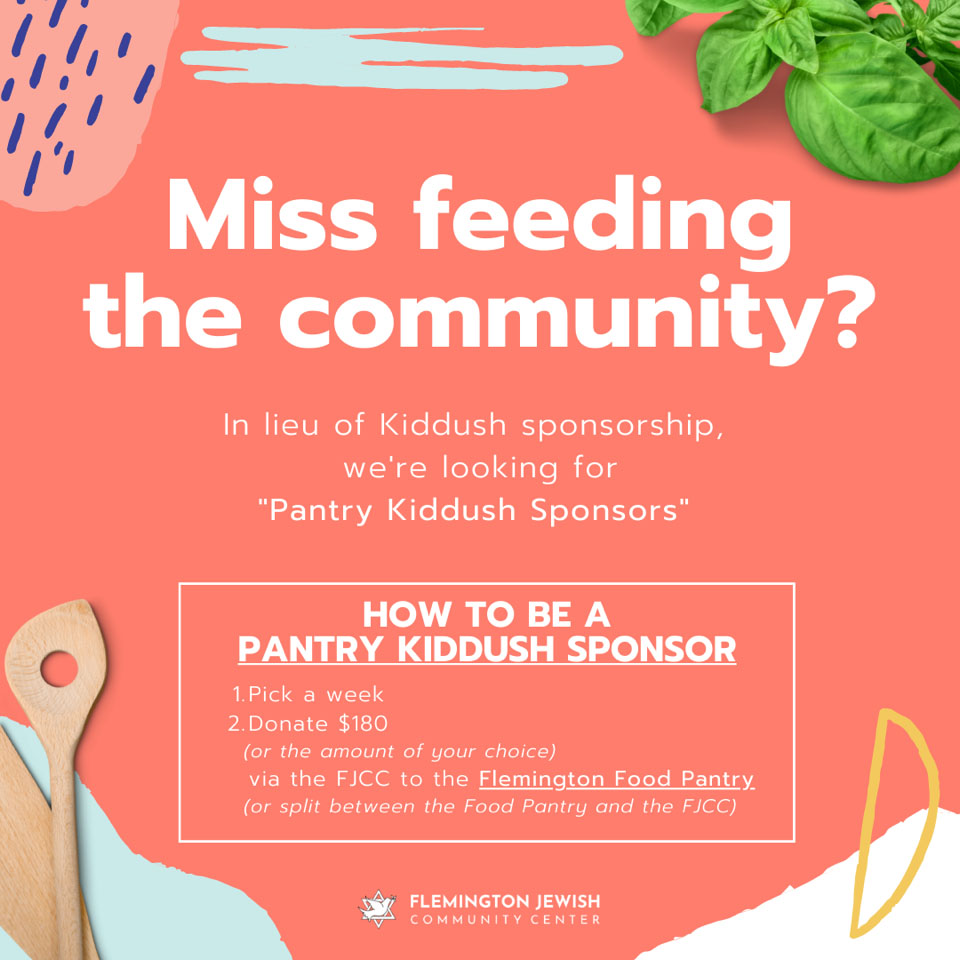 How to be a Pantry Kiddush Sponsor:
Pick a Shabbat
Donate $180 (or the amount of your choice) to sponsor your "kiddush" via the FJCC to the Flemington Food Pantry (or split between the Food Pantry and the FJCC)
Your sponsorship will be listed in News & Notes the week of your "kiddush" and announced during Bima Announcements to celebrate, to remember, just because!
FJCC Giving Garden
Get out of your house.
Come into the fresh air.
Make a difference to those in need of food.
The FJCC Giving Garden is entering our 7th season of providing fresh vegetables to local food pantries and we need your help. ·      
Planters
Laborers (Soil movers. Great exercise!!)
Waterers
Weeders
We also need gardening advice, contributions of mature and maturing plants, and dollars to enable our growth.
Excellent community service opportunity for high schoolers.
*** No gardening experience needed. 
"You must love the stranger, for you were strangers in the land of Egypt."
One of our neighbors, Pastor Liz Estes, has established a "go-fund-me" drive to support families in Hunterdon country who lack appropriate documentation. There are last count, 44 of these. They are scared, vulnerable, and in very dire straits. Please, go to Pastor Liz's go-fund-me site and donate generously. If you remember, put "FJCC" next to your name, so people recognize our community. It costs $1,000 to support a family; please donate as much as you are able: https://charity.gofundme.com/o/en/campaign/pandemic-relief-for-families-emergency-shortfall/elizabethestes2